Angmar
LOTRO Wiki Description

About 1700 years before the War of the Ring, the Lord of the Nazgûl established the Witch-realm of Angmar in the far North. For more thean 600 years, the Witch-king harried the North Kingdom of Arnor, until at last he was cast down by a mighty host of Elves and Men, led by Eärnur of Gondor and Glorfindel of Rivendell. But they had come to late... Arnor had fallen.

Today, with the shadow of Sauron lengthening everywhere, Angmar has once again become a place of gathering darkness. There, the Witch-king's Steward musters the strength of the Orcs and Angmarim to make war upon the North once more. Only the most valiant heroes from among the Free Peoples of Middle-earth would dare to venture there.
This zone may have maps for mulitple areas. Click here for all of them!
Click here for more and bigger maps with filtering options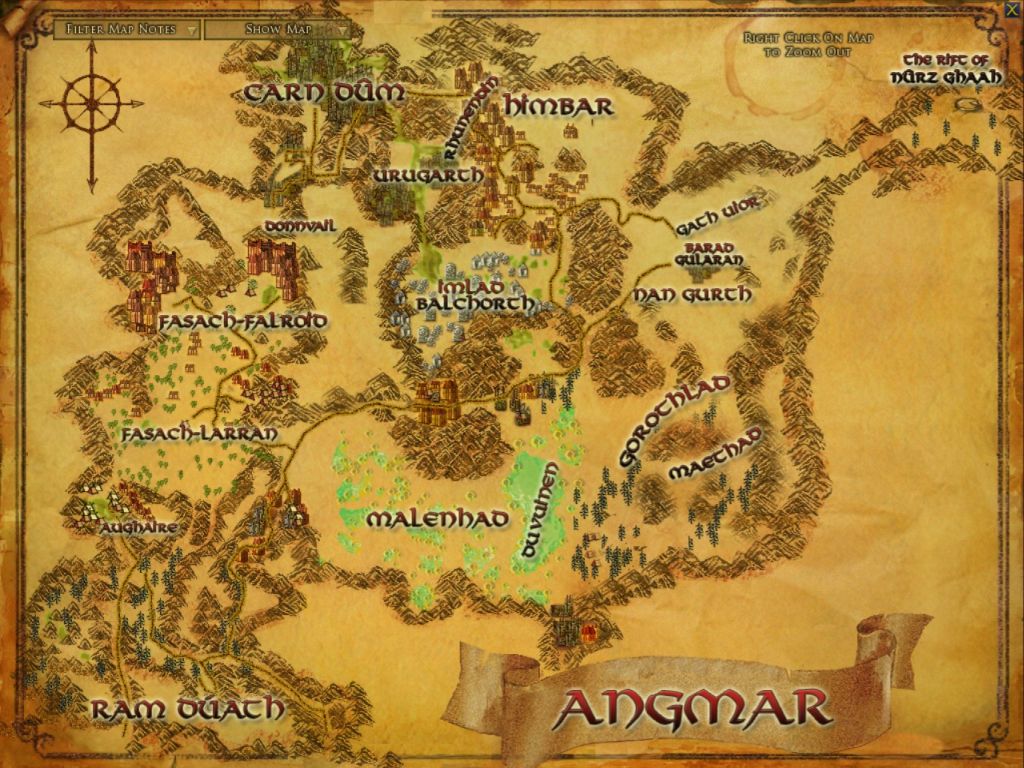 | | |
| --- | --- |
| | Aughaire |
| | Bail Boglakh |
| | Bail Catharnakh |
| | Bail Dilas |
| | Bail Rova |
| | Barad Durgul |
| | Burzum Pushdug |
| | Buth Luikh |
| | Buth Sankhas |
| | Cairn of Honor |
| | Center Aughaire Bulmark |
| | Dolendath |
| | Donnvail |
| | Dor Gul |
| | Dun Covad |
| | Dushkal's Lair |
| | Duvaire |
| | Faelbenn's Bulmark |
| | Fail-a-Khro |
| | Fane of the Seven Sentinels |
| | Fasach-larran |
| | Frith-vaile |
| | Gabilshathur |
| | Gate of Aughaire |
| | Gate of Shadows |
| | Gate of Shadows (Instance) |
| | Gath Forthnir |
| | Golodir's Quarters |
| | Iorelen's Camp |
| | Krusle Lannan |
| | Laerdan's Quarters |
| | Lehma-koti |
| | Lorniel's Quarters |
| | Malenhad |
| | Minas Agar |
| | Minas Angos |
| | Minas Caul |
| | Minas Deloth |
| | Minas Dhem |
| | Minas Maur |
| | Minas Nir |
| | Mor Maudhul |
| | Morfil |
| | Morfil Entrance |
| | Morroval Encampment |
| | Myrkworth |
| | Nad Nathair |
| | Nan Gurth |
| | North Bulmark |
| | Northern Aughaire Bulmark |
| | Northern Bulmark |
| | Northernmost Bulmark |
| | Ologfil |
| | Orc Encampment |
| | Ram Duath |
| | Rammas Deluon |
| | Rhunendin |
| | Rimpurod |
| | Salgaite |
| | Sammath Baul |
| | Sammath Baul Gate-house |
| | Skathmur |
| | Skirmish Camp (Angmar) |
| | South Bulmark |
| | Southern Aughaire Bulmark |
| | Southern Bulmark |
| | Tarmunn Sursa |
| | The Halls of Night |
| | Tor Gailvin |
| | Tyrn Lhuig |
| | Urugarth |
| | Uruk Encampment |