Misty Mountains
LOTRO Wiki Description
The Misty Mountains lay east of Rivendell and run north and south.
The cruel and ancient spires of the Misty Mountains have, since dawn of time, divided fields of Eriador from the ancient forests and wilderness of Rhovanion.
The legendary birthplace of Durin the Deathless, the First Father of the Dwarves, only that hardy people have ever been able to tame the Mountains and bend them to their will. Today, the Dwarves are gone, driven from their ancestral halls by teeming hordes of Orcs and other more ancient and mysterious evils. The dark caverns and high passes of the Misty Mountains are given over almost entirely to the creatures of the Dark Lord Sauron.
This zone may have maps for mulitple areas. Click here for all of them!
Click here for more and bigger maps with filtering options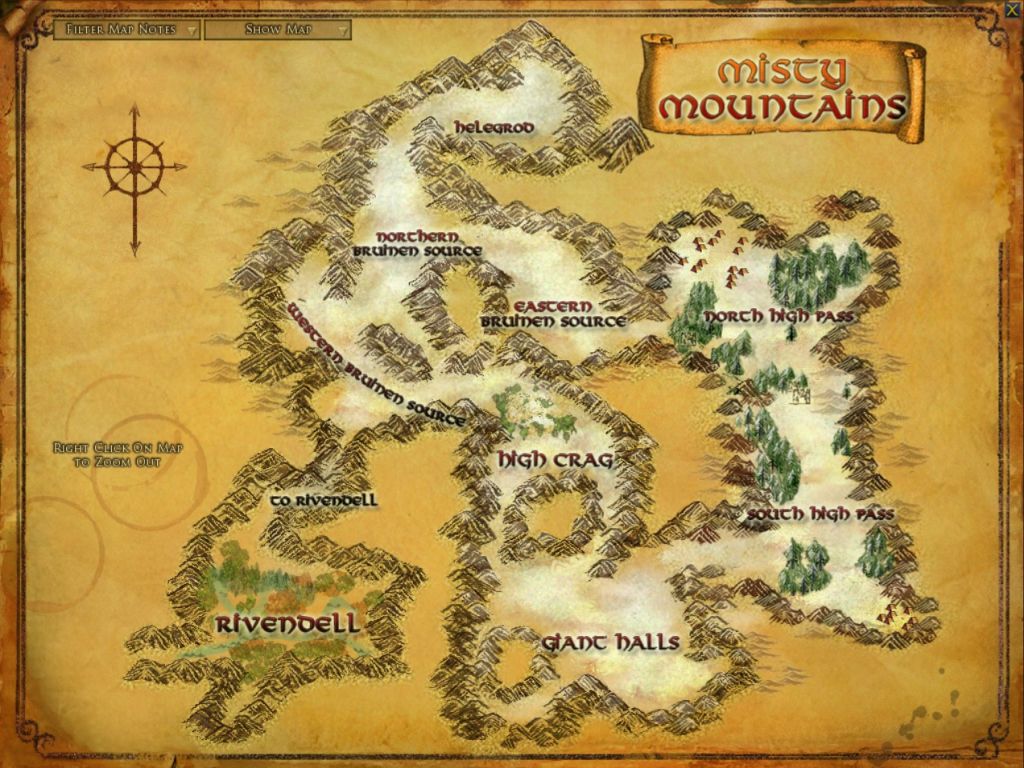 | | |
| --- | --- |
| | Bavor Wyrm-brand's Tomb |
| | Caldwell Pool |
| | Cirith Daur |
| | Cirith Imladris |
| | Domstoll |
| | Erforgh Cleft |
| | Gabilazan Vault |
| | Gloin's Camp |
| | Goblin-town |
| | Halmur Stoneshaper's Tomb |
| | Helegrod |
| | Helegrod Treasury |
| | Hrimbarg |
| | Hrithur's Haven |
| | Iorbar |
| | Iskeld's Lookout |
| | Lornstone |
| | Northern High Pass |
| | Northtarn |
| | Orod Laden |
| | Pinnath Fenui |
| | Rakhas-Bizar |
| | Southern High Pass |
| | Starkhath |
| | The Bitter Stair |
| | The Black Crack |
| | Thorgest's Haven |
| | Torech Mordeloth |
| | Vindurhal |
| | Whitcleft |
| | Writhenbores |