Lone-Lands
Official LOTRO Description

In ancient times, this was part of the Kingdom of Rhudaur, but today the Lone-lands are little more than a savage wilderness, home to small bands of Half-Orcs, Goblins and Orcs who prey upon travellers on the Great East Road.
The last known vestige of civilization in the Lone-lands is The Forsaken Inn. This small run-down inn serves as a way-station for travellers upon the Great East Road, its battered walls offering a certain ammount of shelter and security.
The Lone-lands is a desolate region that lies east of Bree-land and west of Rivendell. Ost Guruth is also a waypoint, but only for Rangers and other hearty scouts.
This zone may have maps for mulitple areas. Click here for all of them!
Click here for more and bigger maps with filtering options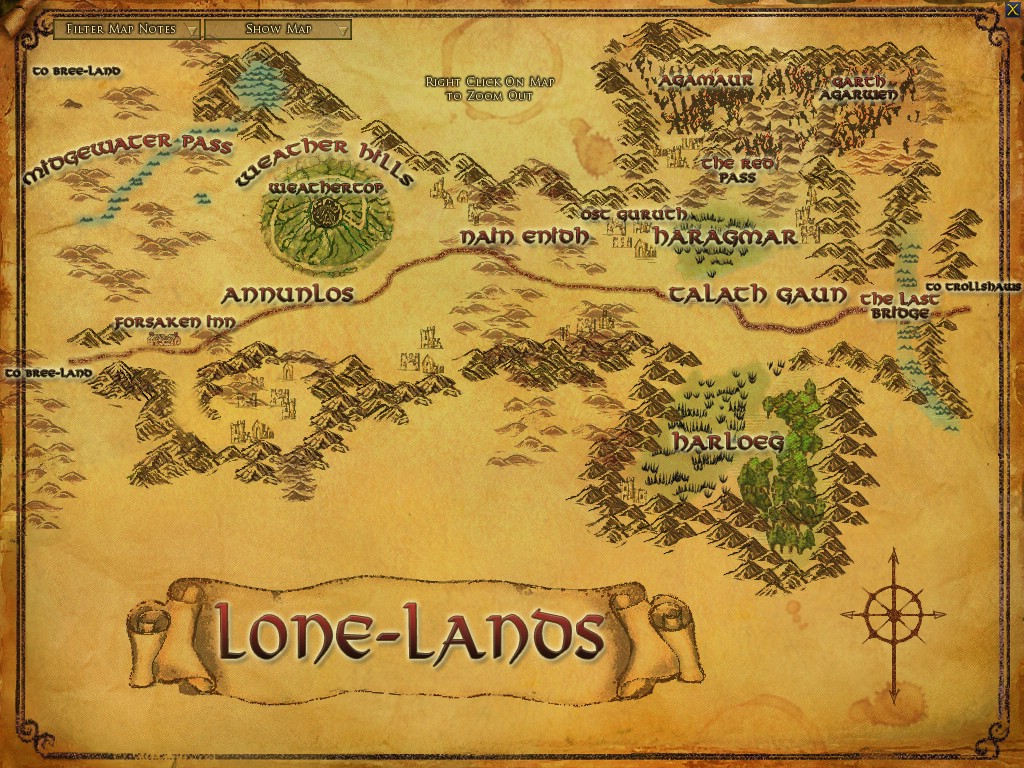 | | |
| --- | --- |
| | Agamaur |
| | Amon Ros |
| | Annunlos |
| | Barad Dhorn |
| | Barad Iachiant |
| | Barrows Gate |
| | Bindbale's Rest |
| | Bleakrift |
| | Candaith's Encampment |
| | Dol Vaeg |
| | Echad Sul |
| | Eglain Camp |
| | Garth Agarwen |
| | Garth Agarwen (Arboretum) |
| | Garth Agarwen (Barrows) |
| | Garth Agarwen (Fortress) |
| | Garth Agarwen Gate |
| | Glumhallow |
| | Gondrinn |
| | Haragmar |
| | Harloeg |
| | Harloeg Ruins |
| | High Pass Gate |
| | Iorvinas |
| | Ivar's Crypt |
| | Minas Eriol |
| | Mithrenost |
| | Naerost |
| | Nain Enidh |
| | Nan Dhelu |
| | Nindor |
| | Ost Cyrn |
| | Ost Guruth |
| | Ost Haer |
| | Ost Laden |
| | Red-maid Ruins |
| | Skirmish Camp (Lone Lands) |
| | Spring of the Red Maid |
| | Thandobel |
| | The Circle of Blood |
| | The Forsaken Inn |
| | The Last Bridge |
| | The Lornspan |
| | The Outer Gates |
| | The Red Pass |
| | The Weather Hills |
| | Tornstones |
| | Weatherfoot |
| | Weathertop |