Database
Chapter 9: Lilies for the River-daughter
Chapter 9: Lilies for the River-daughter
Prerequisite:
Chapter 8: Master of the Wood
Series Name:
Vol 1, Book 1: Stirrings in the Darkness
Leads To:
Chapter 10: Into the Barrow Downs
Start Zone:
Bree-land
Start Area:
Old Forest
Start Location:
Tom Bombadil's House
Start Mob:
Strider
Flags:
Epic
Items Needed:Reputation Increased:
700 Men of Bree
Cash Granted:
3

20

Exp Granted:
489
Quest Level:
18
Min Level:
14
Send a correction
Locations with maps:
Bree-land
Click here for more and bigger maps with filtering options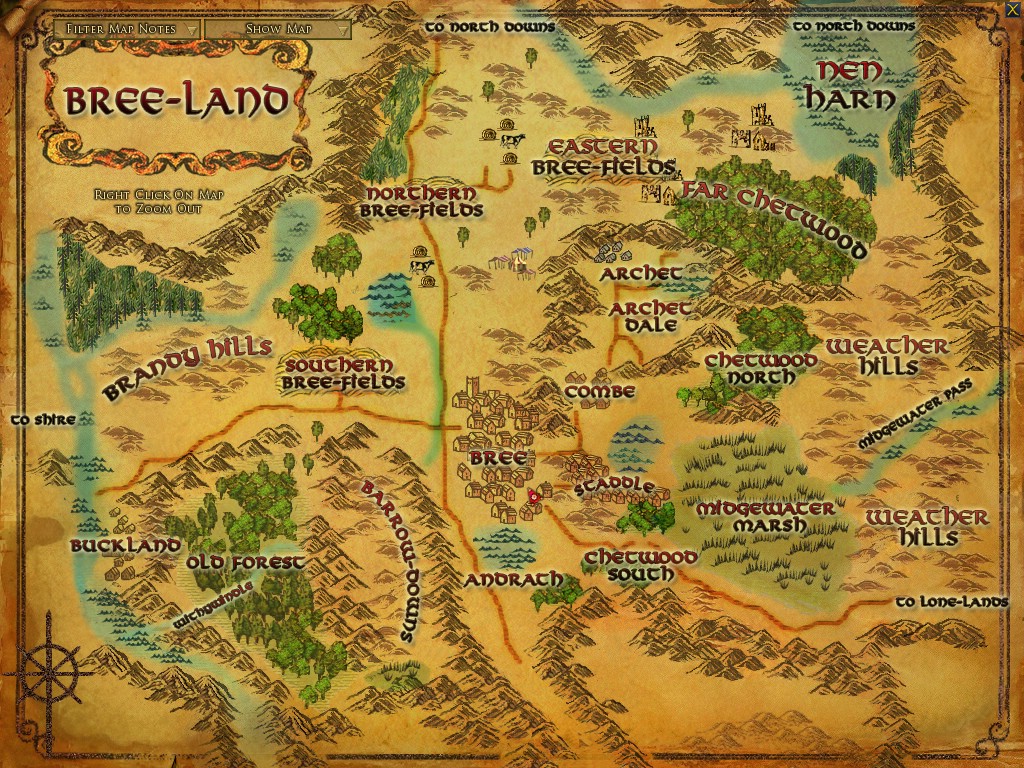 Bestowal
'My Goldberry is away at her spring, and I was going lily-hunting! I've no time for chasing birds. But hoy now! Aragorn's a name I know, and a friend of Old Tom's!

'Hear then my offer: While Old Tom Bombadil looks for sour crows, you'll gather lillies for my lovely. I saw some along the river, just a hop and a jump away. Just follow along until, ring a ding dillo, you find Old Man Willow!

'You watch that old Grey Willow-man. He's a mighty singer. He'll sing you down to sleep and drown you, if you don't be careful.'
Background
Strider directed you to speak to Tom Bombadil, the master of the Old Forest, to ask for his aid in tracking the crebain who fled into woods.
Objectives
Objective 1

Collect Large Lily for Tom Bombadil's daughter (0/4)
The river flows westward from the house of Tom Bombadil.

You found Tom Bombadil and spoke with the strange creature. While he was not at first willing to find the crebain he did at last relent, if you would perform a task he considered far more important. He wishes you to gather lilies from the river, near someone called Old Man Willow.

Objective 2
Bring the lilies to Tom Bombadil
'Lilies white for the River-daughter! Stronger than hobbit-folk are you if you outsang Willow-man! Not a lily crushed, nore leaf bent!

'Old Tom's a merry fellow, but he knows when it's time for dancing or to go a-whistling. He's found your birds and none too soon. If you seek them out, then seek them now, unless you wish to sleep beneath green grass!'

Notes
Go out the front door and head left down the path to the river below, follow the river to right (westish). The lilies are nearby floating on the river. You'll get a bunch of debuffs but otherwise aren't openly attacked unless you get too close to the willow roots. 32.9s 58.1w