Throw the Yoke
Prerequisite:
Finding Rest
Series Name:
Dunland: Bonevales
Leads To:
Bring Word
Start Zone:
Dunland
Start Area:
Dunland
Start Location:
Bonevales
Start Mob:
Ilar
Flags:
Solo
Items Rewarded:Reputation Increased:
500 Men of Dunland
Cash Granted:
30

45

Exp Granted:
9635
Item Exp Granted:
9277
Quest Level:
66
Min Level:
62
Send a correction
Locations with maps:
Dunland
Click here for more and bigger maps with filtering options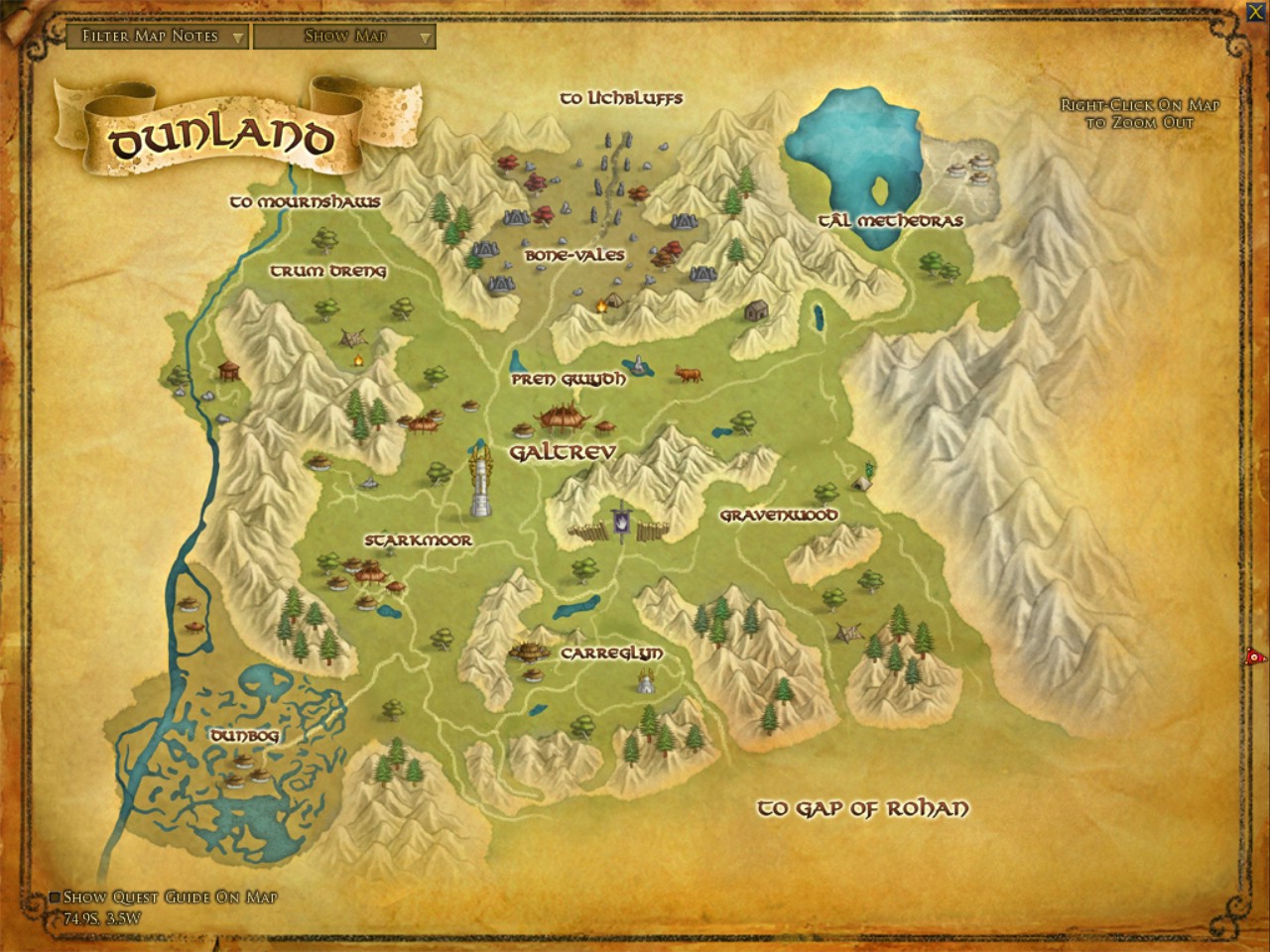 | | |
| --- | --- |
| | Asgurn-capten |
| | Dievlig Wight |
| | Ilar |
| | Dunland |
| | Plas-maru |
Bestowal
'These are sad days for our people, Duvodiad. Those who went before us and guided us for generations are being defiled by those who have betrayed us. I fear that Plas-maru, the cairn of our greatest leaders, has fallen as well, but it may be that you will learn more of the evil there.

'The entrance to Plas-maru lies to the east of here. Travel there and defeat the wights which stand guard outside its entrance.'
Background
Plas Maru is a great cairn which was reserved for the ancient brenins and their brehur.
Objectives
Objective 1
Defeat wights near Plas-maru (0/10)
Defeat the Asgurn-capten
Plas-maru lies to the east of Ilar's camp.

Ilar has asked you to defeat the wights guarding the entrance to Plas-maru and put to rest their captain.

Objective 2
Talk to Ilar at his camp in the Bonevales
Ilar is at his camp, west of Plas-maru.

You should bring word to Ilar of your victory against the wights.
Notes