Database
Concerned by Hobbits (Hobbit Only)
Concerned by Hobbits (Hobbit Only)
Series Name:
Volume III, Book 4: Rise of Isengard
Included in Quest:
Book 4, Chapter 7: Aiding Tur Morva
Start Zone:
Dunland
Start Area:
Dunland
Start Location:
Tal Methedras
Start Mob:
Maelona
Flags:
Epic, Solo
Items Rewarded:Reputation Increased:
500 Men of Dunland
Cash Granted:
31

15

Exp Granted:
14672
Item Exp Granted:
12951
Quest Level:
68
Min Level:
63
Send a correction
Locations with maps:
Dunland
Click here for more and bigger maps with filtering options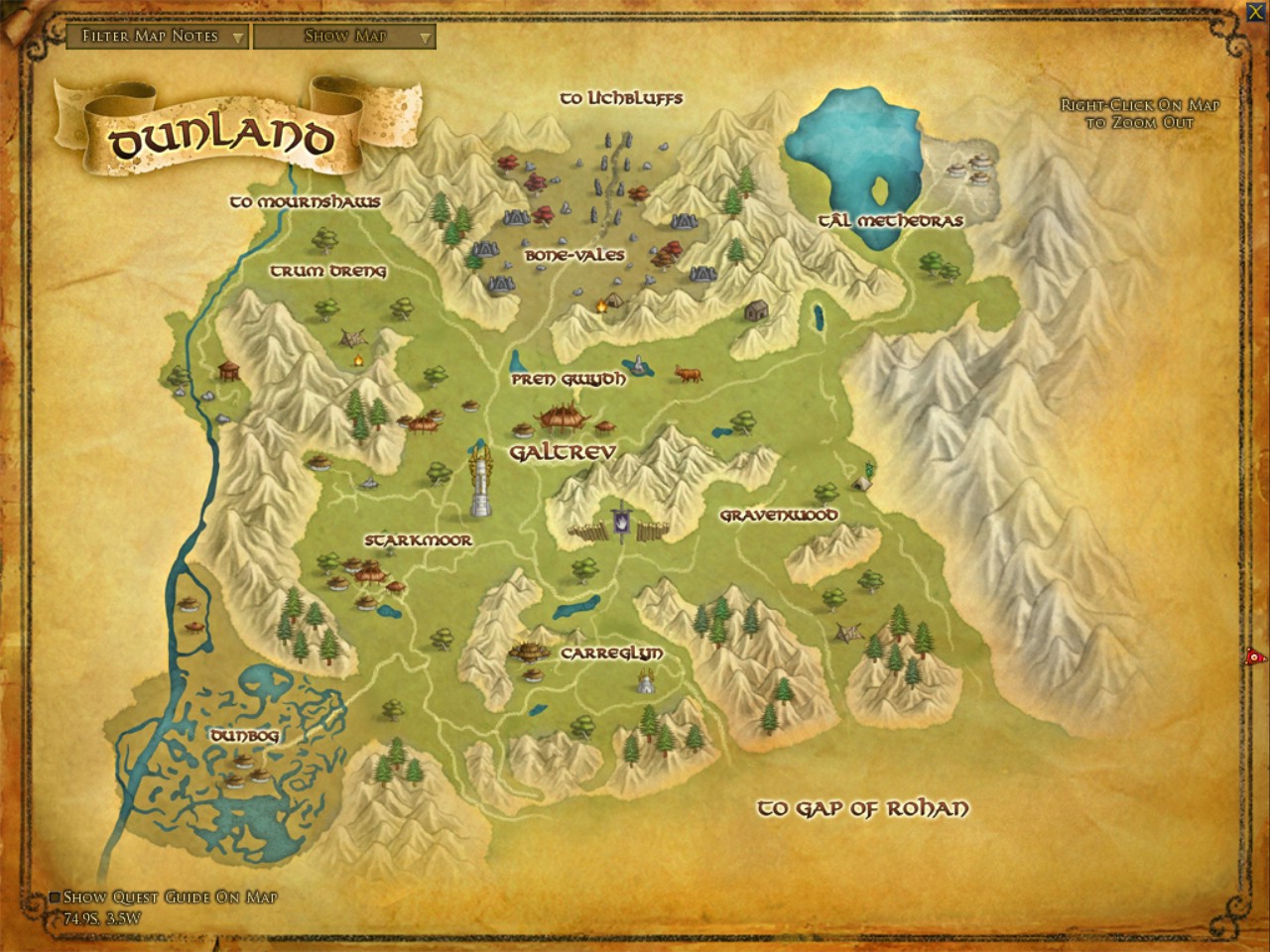 | | |
| --- | --- |
| | Gwynna |
| | Maelona |
| | Olwen (Hobbit Quest) |
| | Penrod |
| | Dunland |
Bestowal
'You are the first halfling I have ever seen, Name. What strange time we live in!'

Maelona laughs nervously.

'I hope you do not think me rude to say so, but your appearance is most curious to my eyes and those of my fellows. We have seen dwarves, of course, but you are different even than that folk!

'Perhaps if you were to share stories of your people and your homeland with the more distrustful members of my clan, they would be at ease, good halfling. I am speaking of Gwynna and Olwen, who expressed their concerns to me when you arrived. You will find them here in Tur Morva.'
Background
Maelona had never seen a hobbit before your arrival in Tur Morva and wants you to share stories of your homeland with members of the Falcon-clan who are concerned by you.
Objectives
Objective 1
Talk to Gwynna in Tur Morva
Talk to Olwen in Tur Morva
Gwynna and Olwen can be found in Tur Morva.

Maelona told you that some of her fellows are distrustful of hobbits, having never seen one before, and you should tell them stories of your homeland.

Objective 2
Talk to Maelona in Tur Morva
Maelona is in Tur Morva.

Maelona will want to speak you once you have regaled Gwynna and Olwen with tales of your homeland.

Objective 3
Talk to Penrod in Tur Morva
Penrod, the first Brehur of Lheu Brenin, is in Tur Morva. He has been asking for you.

Maelona told you to speak Penrod now that you have reassured her friends Gwynna and Olwen.
Notes