Database
Monuments of Angmar
Monuments of Angmar
Prerequisite:
Orchalwe's Mission
Start Zone:
Annuminas
Start Area:
Annuminas
Start Mob:
Orchalwe (Ally of Your Name)
Items Rewarded:
Always Receive:
Select One of:
Reputation Increased:
1200 The Wardens of Annuminas
Cash Granted:
41

30

Exp Granted:
5258
Quest Level:
38
Min Level:
33
Send a correction
Locations with maps:
Annuminas
Click here for more and bigger maps with filtering options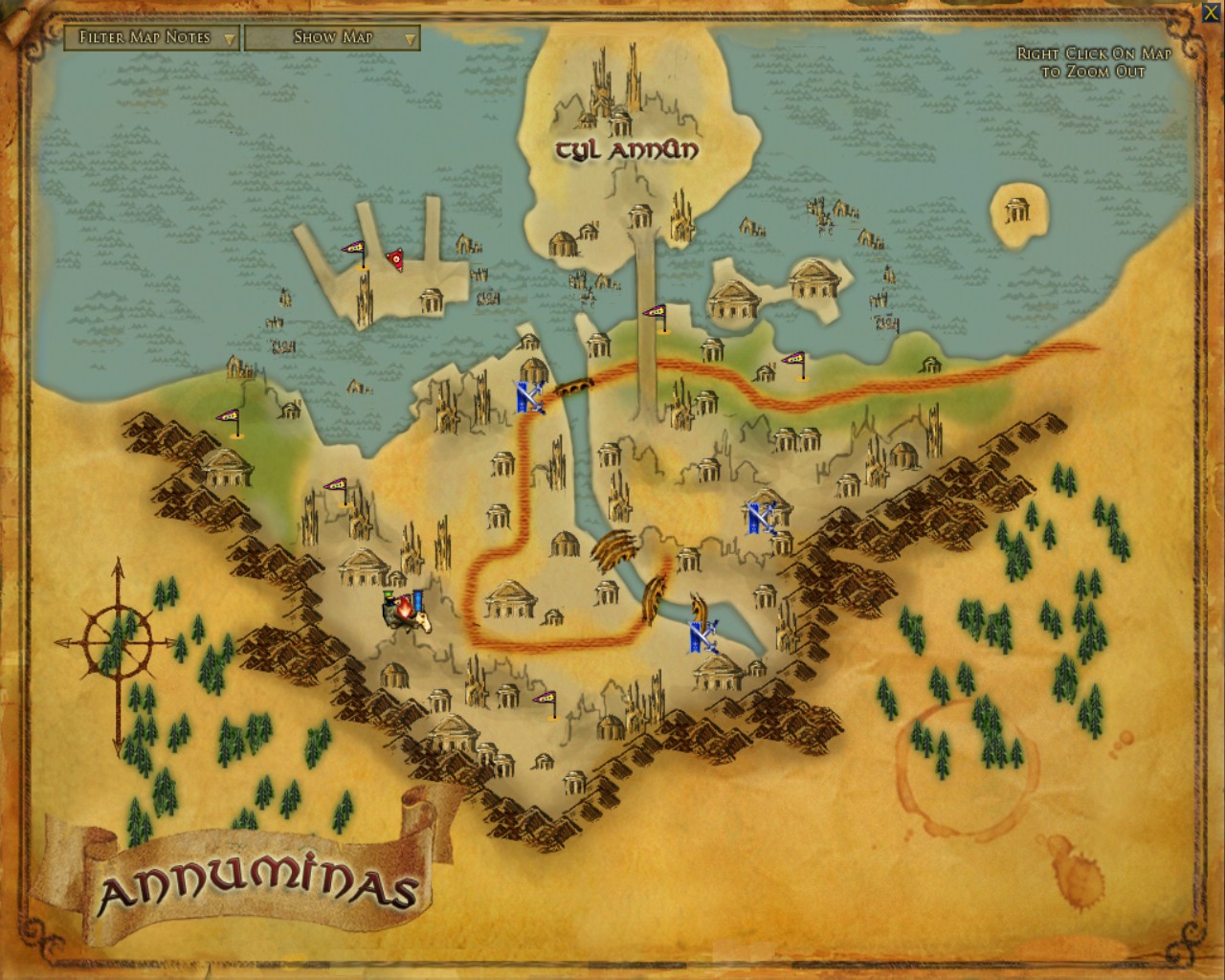 | | |
| --- | --- |
| | Annuminas (Courtyard) |
| | Clorhir |
| | Menelband |
| | Port of Annuminas |
| | Tyl Annun |
| | Monument to Angmar |
Bestowal
'Annuminas is our city. The ruins and buildings were built by my ancestors and they are monuments to our history, memories of the glory of the past.

'The Angmarim not only dare to occupy what is ours, they defile it with foul monuments to their false king. It is a slap in the face of every Ranger that those stones stand within our city.

'We cannot hope to tear the monuments down, they are too large and we are too few. In the time it would take us to destroy them they would have us surrounded with more than we could possibly defeat. No, the answer is subtler.

'We will take the monuments and claim them for ourselves. There are six spread amongst the city. Once we find them I will protect you while you fly a flag of the Rangers from it. We will turn their monument into ours.'
Background
The forces of Angamr have erected several monuments around the city of Annuminas.
Objectives
Objective 1
Display Ranger-flags from the monuments of Angmar (0/6)
Monuments of Angmar are spread throughout the ruisn of Annuminas.

Ochalwe asked you to find several Monuments of Angmar throughout the ruins and hang flags of the Rangers from them.

Objective 2
Talk to Orchalwe
Orchalwe will want to speak with you about the monuments of Angmar.
Notes
Locations of the Monument to Angmar :
Annuminas 18.0S, 69.1W
Annuminas (Courtyard) 18.1S, 70.6W
Clorhir 18.8S, 69.0W
Menelband 19.8S, 70.1W
Port of Annuminas 17.1S, 71.1W
Tyl Annun 16.8S, 69.7W