Black Flames
Prerequisite:
A Timely Rescue
Series Name:
Enedwaith
Start Zone:
Enedwaith
Start Area:
Fordirith
Start Location:
Echad Dagoras
Start Mob:
Amarion
Repeat Time:
1d
Flags:
Repeatable
Items Rewarded:Reputation Increased:
700 The Grey Company
Cash Granted:
28

35

Exp Granted:
9217
Item Exp Granted:
9277
Quest Level:
65
Min Level:
62
Send a correction
Locations with maps:
Enedwaith
Click here for more and bigger maps with filtering options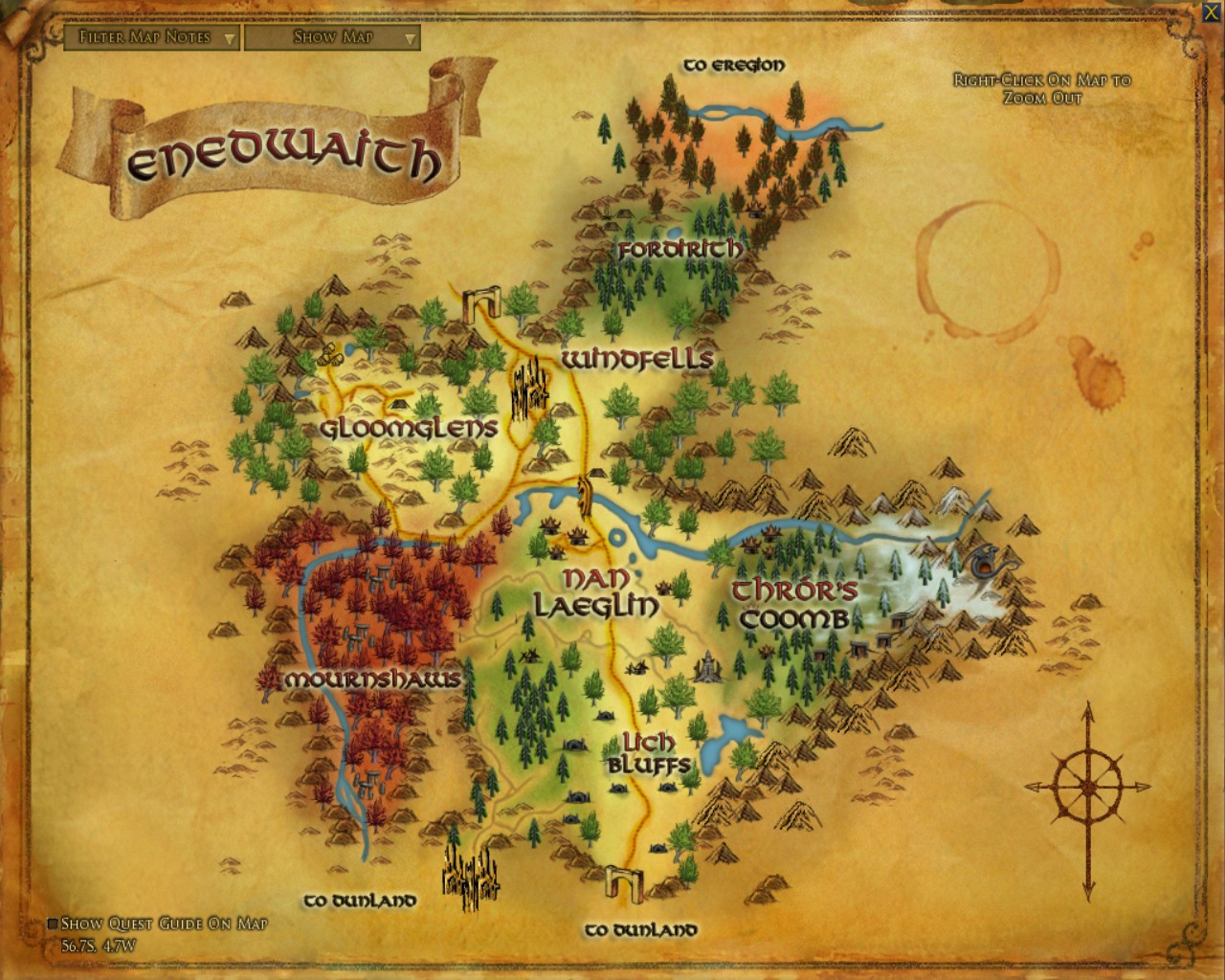 | | |
| --- | --- |
| | Fordirith |
| | The Black Dens |
| | Torch of Shadows |
Bestowal
'Our attempt to stop these Shadow-wolves have borne no fruit thus far.

'The source of their evil must lie within the caverns in the Black Dens.

'Go now, and may the Valar watch over you.'
Background
The Shadow-wolves of the Black Dens are clearly no ordinary wolves. Some spirit of evil empowers them and guides them.
Objectives
Objective 1

Find the source of the Shadow-wolves' power
The Black Den lie to the south-east of Echad Dagoras.

Amarion has asked you to enter the Black Dens and find the source of the Shadow-wolves' power.

The black torch on the wall before you casts twisted shadows upon the cavern floor....

Objective 2
Douse torches (0/9)
Shadow-torches can be found throughout the caverns of the Black Dens.

You should douse the torches with the Black Dens to break the strange enchantment that summons forth the Shadow-wolves.

Objective 3
Talk to Amarion at Echad Dagoras
Amarion is at Echad Dagoras, north-west of the Black Dens.

You should return to Amarion with tidings of what you found in the Black Dens.