Database
Intro: Shrine to the Fallen King
Intro: Shrine to the Fallen King
Prerequisite:
Intro: Gormr, Steward of the Hall
Series Name:
Ered Luin Introduction
Leads To:
Intro: The Uneasy Feeling
Start Zone:
Thorin's Gate (pre-instance)
Start Area:
The Berghold
Start Mob:
Gormr Doursmith
Flags:
Epic, Solo
Items Rewarded:Cash Granted:
90

Exp Granted:
82
Quest Level:
4
Min Level:
1
Send a correction
Locations with maps:
Thorin's Gate (pre-instance)
Click here for more and bigger maps with filtering options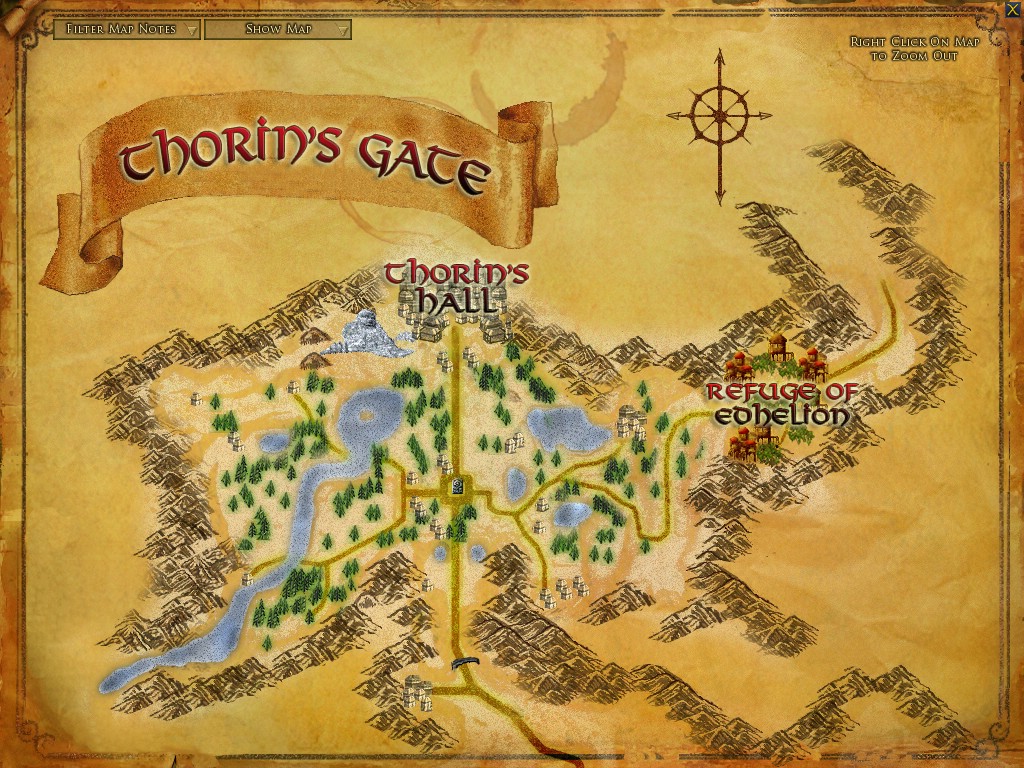 | | |
| --- | --- |
| | Gormr Doursmith |
| | Shrill Bat |
Bestowal
'I'm afraid you have come here for nothing anyways, Name. No one is to gain admittance to Skorgrim's Tomb. It is a sacred ground, and only descendants of Skorgrim -- that is, the Dourhands -- have leave to enter.

'You are more than welcome to pay your respects to our fallen king at his Shrine, which is just east of here, in the Rockbelly Pit. Skorgrím was a great king, after all, and deserves tribute.'
Background
Gormr, Steward of Thorin's Hall and leader of the Dourhands who now inhabit it, will not grant you access to Skorgrím's Tomb. He has, however, given you leave to visit the shrine instead.
Objectives
Objective 1
Defeat bats in the Rockbelly Pit (0/5)
Bats can be found in the Rockbelly Pit cave, which can be entered in the courtard near the Berghold or from the overlooking Winterheight.

You should defeat bats in the Rockbelly Pit to ensure that the Shrine to Skorgrim remains clean.

Objective 2
Visit the Shrine to Skorgrim in the Rockbelly Pit
The Shrine to Skorgrim is in the Rockbelly Pit.

You should visit the shrine to see what all the fuss over Skorgrim is about.

A menacing-looking statue has been raised in the likeness of the Dourhands' king of old

Objective 3
Talk to Gormr Doursmith at the Berghold
Gormr awaits you at the Berghold in Thorin's Gate.

You should return to Gormr after having completed the task he gave you.