Behind Bars
Leads To:
A Pointed Message
Leads To:
Uniformity
Includes Quest:
Behind Bars -- Instance
Start Zone:
Enedwaith
Start Area:
Fordirith
Start Location:
Echad Dagoras
Start Mob:
Braigiar (Echad Dagoras)
Items Rewarded:Reputation Increased:
700 The Grey Company
Cash Granted:
28

35

Item Exp Granted:
9277
Quest Level:
65
Min Level:
60
Send a correction
Locations with maps:
Enedwaith
Click here for more and bigger maps with filtering options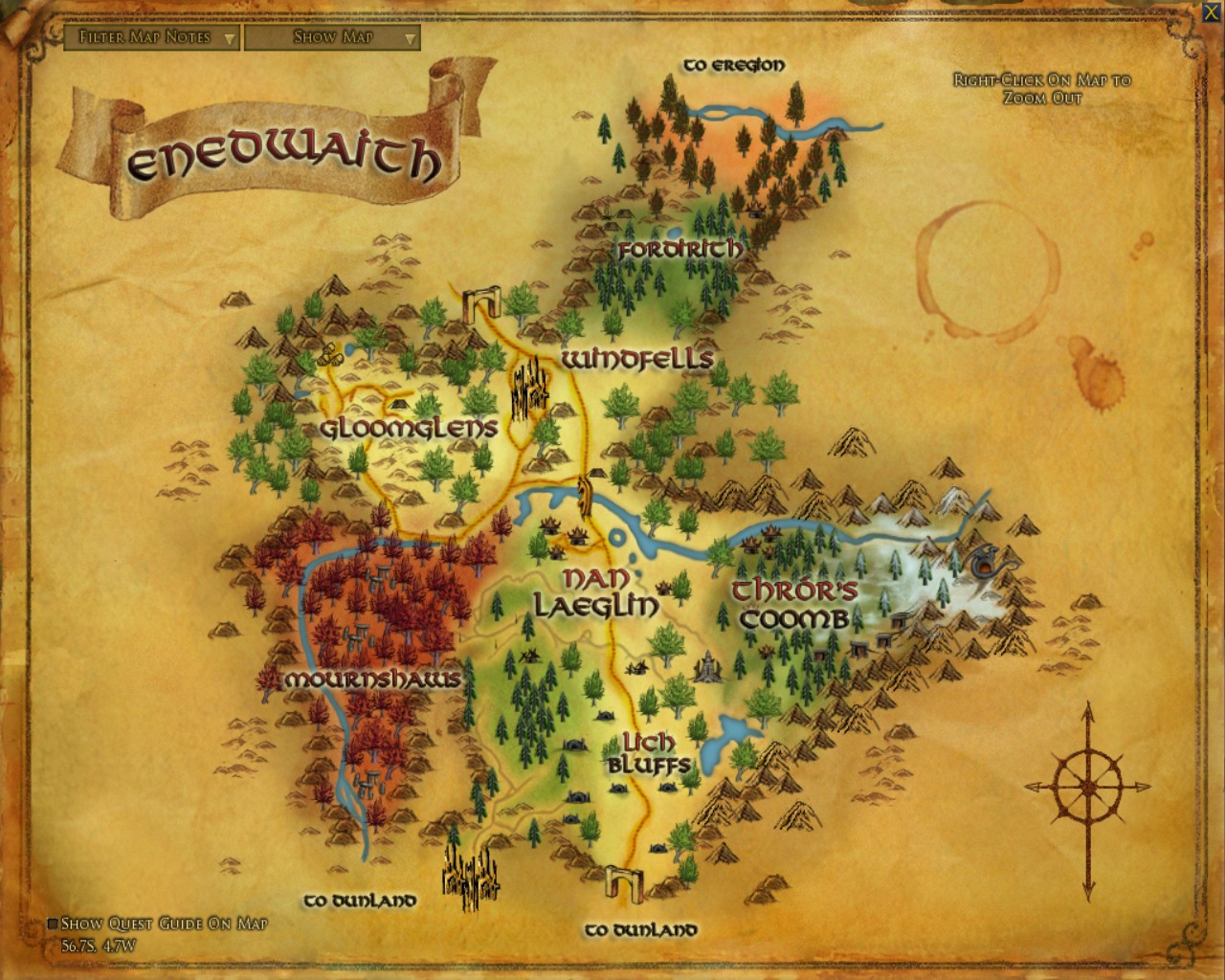 | | |
| --- | --- |
| | Braigiar (Echad Dagoras) |
| | Dagoras (Echad Dagoras) |
| | Fordirith |
| | Lhe Lhechu |
| | The Jailor's Quarters |
Bestowal
'Name! Never did I think to find you here! It has been long since Esteldin, but we will have to reminisce later.

'I came here to try and negotiate with these deserters, thinking they might not have much in commmon with the forces from Isengard after being abandoned to their fate in Eregion, but they had other ideas.

'In any case, it seems these folk are not open to parley. They have been betrayed with too many false promises. Release me, and let us return to my camp.'
Background
Braigiar's companion Dagoras has been captured by the Dunlending deserters after going to negotiate an agreement with them.

'Dagoras is being held in a cave near the back of the deserter's camp, a short ways to the south-west of the ranger's encampment.
Objectives
Objective 1

Rescue Dagoras from Lhe Lhechu
Dagoras is being held in Lhe Lhechu, south-west of Echad Dagoras.

You must free Dagoras and escort him from the Dunlending camp.

Objective 2
Talk to Dagoras, north-east of Lhe Lhechu
Dagoras is at Echad Dagoras, north-east of Lhe Lhechu.

You should speak with Dagoras at his encampment.