Database
Aiding the Elves IV
Aiding the Elves IV
Prerequisite:
Return Their Filth
Start Zone:
Lothlorien
Start Area:
Nimrodel
Start Location:
Echad Andestel
Start Mob:
Dindirith
Repeat Time:
2h
Flags:
Repeatable
Items Needed:Reputation Increased:
700 Galadhrim
Cash Granted:
28

35

Exp Granted:
6955
Quest Level:
60
Min Level:
56
Send a correction
Locations with maps:
Lothlorien
Click here for more and bigger maps with filtering options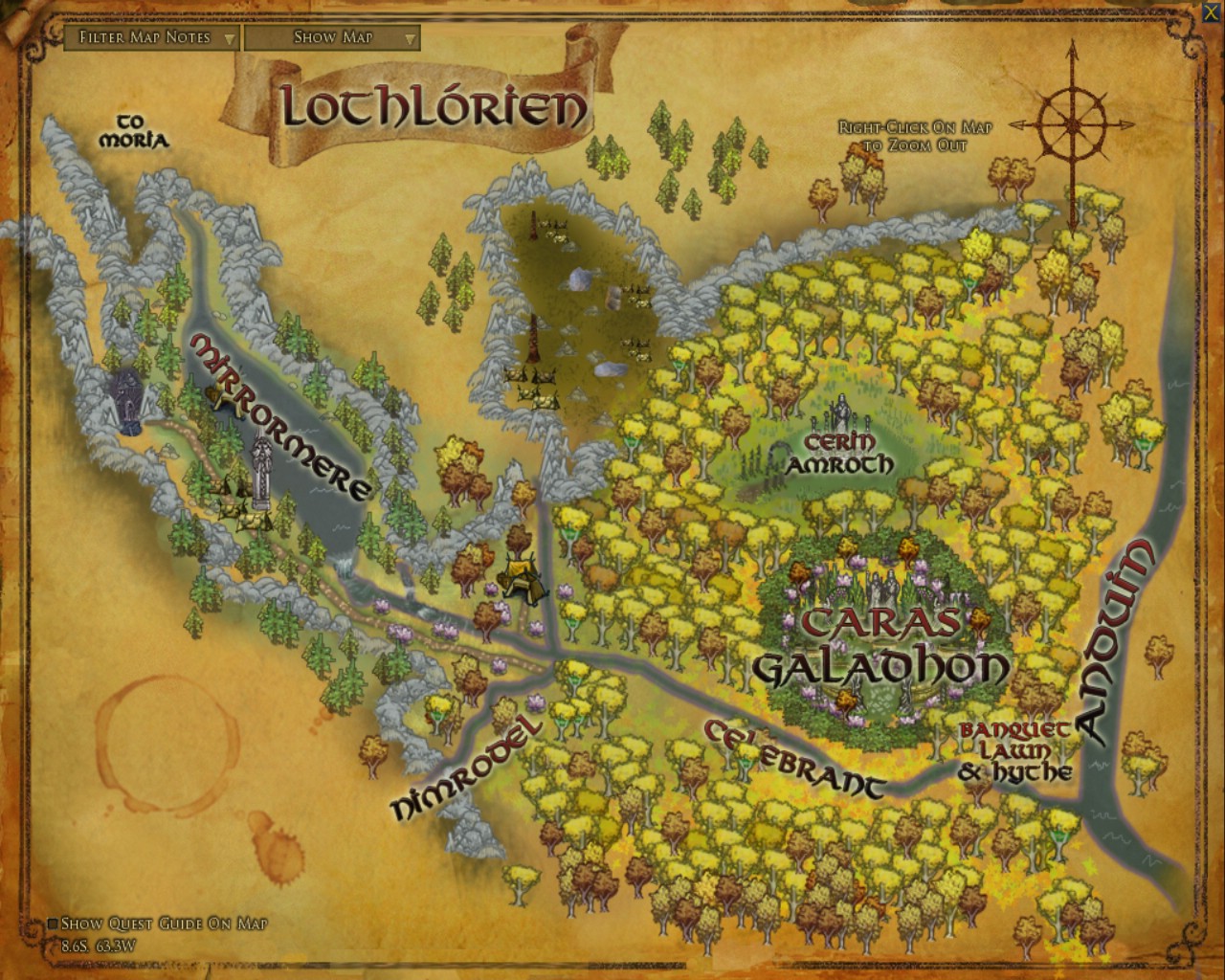 | | |
| --- | --- |
| | Athmadhul |
| | Dru-garmadh |
| | Nimrodel |
| | Uruk-gashan |
| | Orc Campfire |
| | Orc Filth |
Bestowal
'More Orcs have crossed Nimrodel, Name, leaving filth in their wake.

'If you are still willing to help, I would ask you to once again walk north and south along the banks, picking up the filth of the Orcs so Nimrodel can once again run clean.

'Return to me when you have done so, and we will give the Orcs back their foul reek, as we did before.'
Background
Pleased with your efforts against the Orcs, Dindirith wishes you to continue providing aid to the Elves of Lorien.
Objectives
Objective 1
Collect Orc filth from the banks of the Nimrodel (0/5)
Orc filth can be found north and south along the banks of the river Nimrodel, west of the border of Lorien.

Dindirth has asked you to once again cleanse the banks of the Nimrodel of the Orc filth that sullier them.

Objective 2
Bring Orc filth to Dindirth
Dindirth is at Echad Andestel, north of the road that runs to Lorien and west of the border.

You have collected Orc filth from the banks of the Nimrodel and should bring it now to Dindirth.

Objective 3
Burn Orc filth in a fire within one of the Orc camps in Nanduhirion
There are Orc camps all along the road that runs through Nanduhirion, west and north of Echad Andestel.

Dindirth has asked you to burn the Orc filth you collected in a fire located within one of the Orc camps along the road through Nanduhirion.

Objective 4
Talk to Dindirth
Dindirth is in Echad Andestel, outside the border of Lorien and east of Nanduhirion.

You have once again disposed of the Orc filth and should report now to Dindirth.
Notes
Orc Filth Locs:
14.2S, 72.8W
14.1S, 72.8W
14.1S, 72.7W
14.3S, 72.7W
14.5S, 72.7W
14.6S, 72.8W
15.1S, 72.6W
15.1S, 72.7W
15.0S, 73.1W
15.0S, 73.2W

Orc Campfire locs:
12.9S, 77.6W