Database
Implements of the Hunt
Implements of the Hunt
Prerequisite:
The Swiftest Arrow is Learning
Series Name:
The Swiftest Arrow
Included in Quest:
A Lesson from Legolas
Required Class:
Hunter
Start Zone:
Archet
Start Area:
Archet
Start Location:
Hunting Lodge
Start Mob:
Fenton Marshley
Flags:
Class, Solo
Items Needed:Items Rewarded:
Always Receive:
Select One of:
Cash Granted:
49

70

Quest Level:
50
Min Level:
45
Send a correction
Locations with maps:
Misty Mountains
|
Angmar
|
Archet
Click here for more and bigger maps with filtering options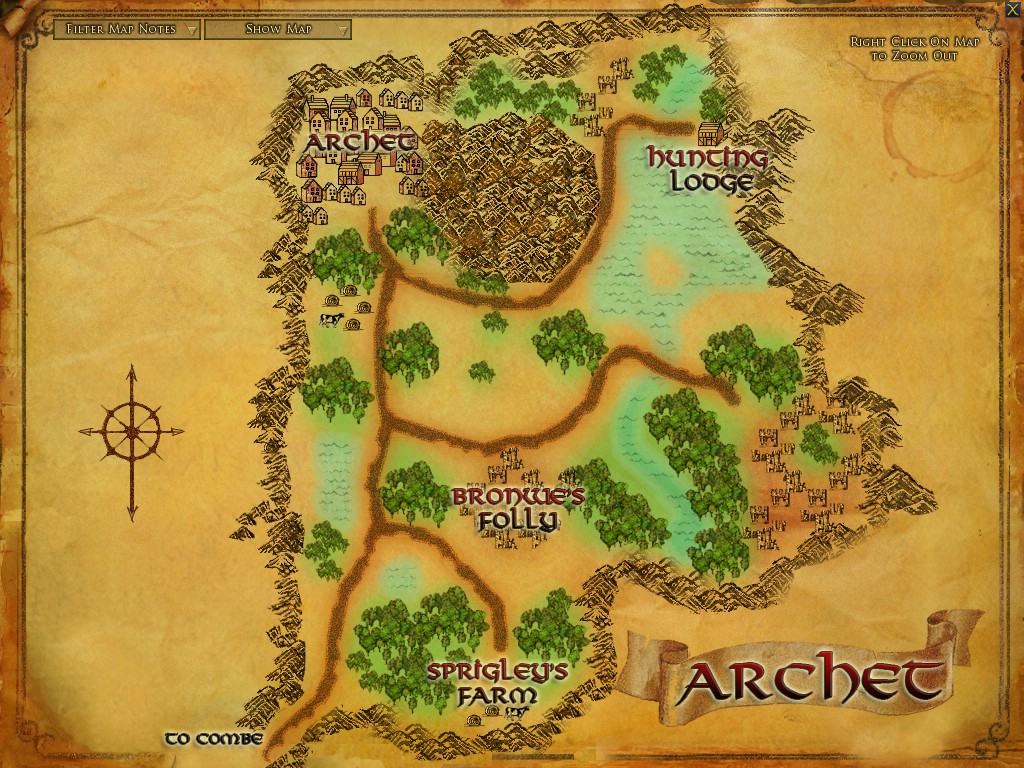 Bestowal
'I can make you a weapon that befits your great skill as a hunter, Name, but you must steel yourself for hardship, for its tale will not be easily won.

'I will need time between each stage of the process, so do not bring me everything at once. I will first need corroded Iron Crown staves, which may be found in Angmar, and a razor-sharp claw belonging to Driftclaw, a great bear of the Misty Mountains, who dwells in the land of the giants.

'May fortune smile upon you during your hunt, Name. It has to this point, and I know it will continue to do so.'
Background
Fenton Marshley has agreed to help you fashion a weapon worthy of your great skill as a hunter. The tale of this weapon will be one of danger and evil, but from these hardships will come strength.
Objectives
Objective 1
Collect Driftclaw's Razor-sharp Claw
Collect Corroded Iron-crown Staves (0/5)

Objective 2
Bring the first set of components to Fenton Marshley

Objective 3
Collect Clouded Worm-eyes (0/20)
Collect Venomous Dread-turtle Beaks (0/5)
Collect Putrid Fingernails (0/5)
Worms may be found in Forochel and Angmar. Dread-turtles may be found in Malenhad in Angmar. Wights roam Imlad Balchorth in Angmar.

Fenton asked you to bring him clouded worm-eyes, venomous dread-turtle beaks, and putrid fingernails.
Objective 4
Bring the second set of components to Fenton Marshley
Objective 5
Collect Medallion of Passage
Collect Putrid Slime of Helchgam
Objective 6
Bring the last set of components to Fenton Marshley
Notes
The items for the 2nd and 3rd phases of this quest can be purchased from a Curiosities vendor at any Skirmish Camp.
Clouded Worm Eyes - 5 for 510 Skirmish Marks
Venemous Dread-turtle Beaks - 5 for 1,224 Skirmish Marks
Putrid Fingernails - 5 for 510 Skirmish Marks
Medallion of Passage - 910 Skirmish Marks
Putrid Slime of Helchgam - 2,600 Skirmish Marks