Database
Articles of Discovery
Articles of Discovery
Prerequisite:
The Swiftest Arrow is Learning
Series Name:
The Swiftest Arrow
Included in Quest:
A Lesson from Legolas
Required Class:
Hunter
Start Zone:
Angmar
Start Area:
Aughaire
Start Location:
Hunting Lodge
Start Mob:
Fenton Marshley
Flags:
Class
Items Needed:Items Rewarded:
Always Receive:
Select One of:
Cash Granted:
49

70

Quest Level:
50
Min Level:
45
Send a correction
Locations with maps:
Angmar
|
Angmar
Click here for more and bigger maps with filtering options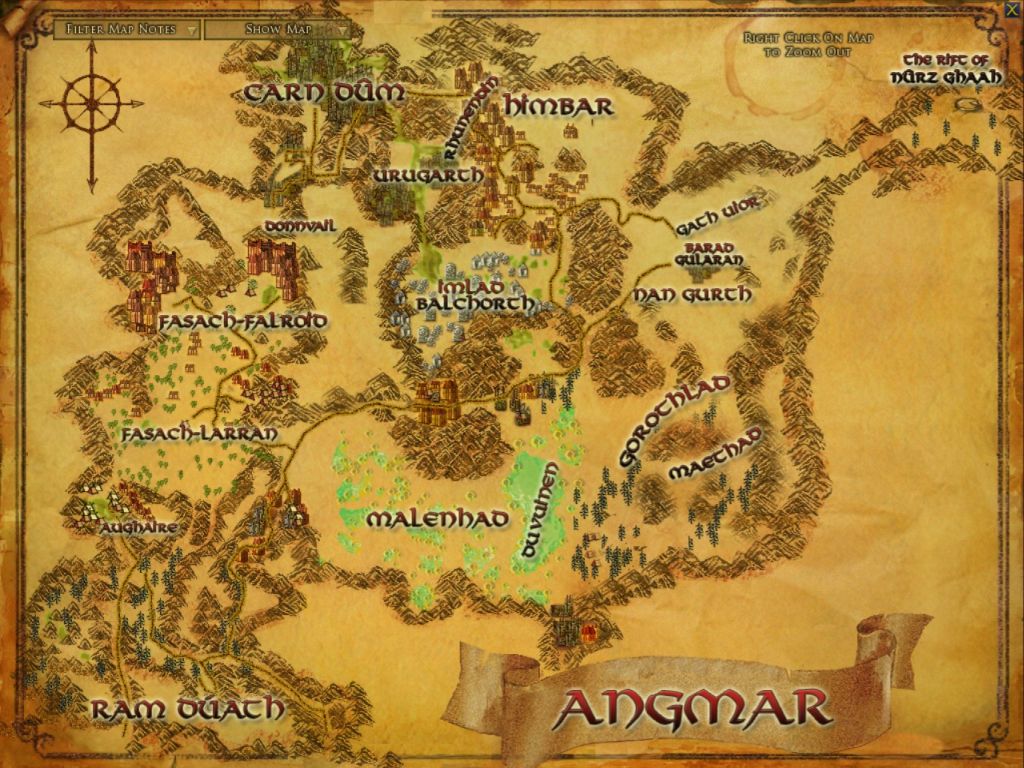 | | |
| --- | --- |
| | Burzfil |
| | Corrupted Norboglir |
| | Skorkrank |
| | Zorrgolug |
| | Aughaire |
| | Malenhad |
| | Nan Gurth |
| | Urugarth |
Bestowal
Fenton Marshley gave you his notes containing the components he will need to fashion you a remarkable piece of equipment.

Fenton asked you to return with the matted hide of the Warg Zorrgolug and with five sulfur-tinged Tarkrîp helmets.
Background
Fenton Marshley has agreed to help you fashion a piece of equipment worthy of your great skill as a hunter.
Objectives
Objective 1
Collect Zorrgolug's matted hide
Collect Brimstone-tinged Tarkrip helmets (0/5)
Objective 2
Bring Zorrgolug's matted hide & Brimstone-tinged Tarkrip helmets to Fenton Marshley
Objective 3
Collect Glossy Cave-claw Skins (0/10)
Collect Corroded Neekerbreeker Horns (0/15)
Cave-claws and nerbeglir dwell in Angmar and other such evil places.

Fenton Marshley asked you to bring him glossy cave-claw skins and corroded Neekerbreeker-horns.
Objective 4
Bring Glossy Cave Claw Skins & Corroded Neekerbreeker Horns to Fenton Marshley
Objective 5
Collect Rune of Winged Dominance
Insignia of Battle
Objective 6
Bring Rune of Winged Dominance & Insignia of Battle to Fenton Marshley
Notes
Fenton Marshley stands to the left of the Hunting Lodge in Archet @ 24.8S, 46.9W.
The items for the 2nd and 3rd phases of this quest can be purchased from a Curiosities vendor at any Skirmish Camp.
Glossy Cave-claw Skin- 5 for 510 Skirmish Marks
Corroded Neekerbreeker Horn - 5 for 510 Skirmish Marks
Insignia of Battle - 910 Skirmish Marks
Rune of Winged Dominance - 2600 Skirmish Marks