Database
Mountain Raiders
Mountain Raiders
Prerequisite:
A Better Sort of Giant
Leads To:
Scouting the Mountains
Start Zone:
Rivendell
Start Area:
Rivendell Valley
Start Location:
Rivendell Valley
Start Mob:
Ringhul
Flags:
Fellowship
Cash Granted:
34

72

Quest Level:
41
Send a correction
Locations with maps:
Trollshaws
Click here for more and bigger maps with filtering options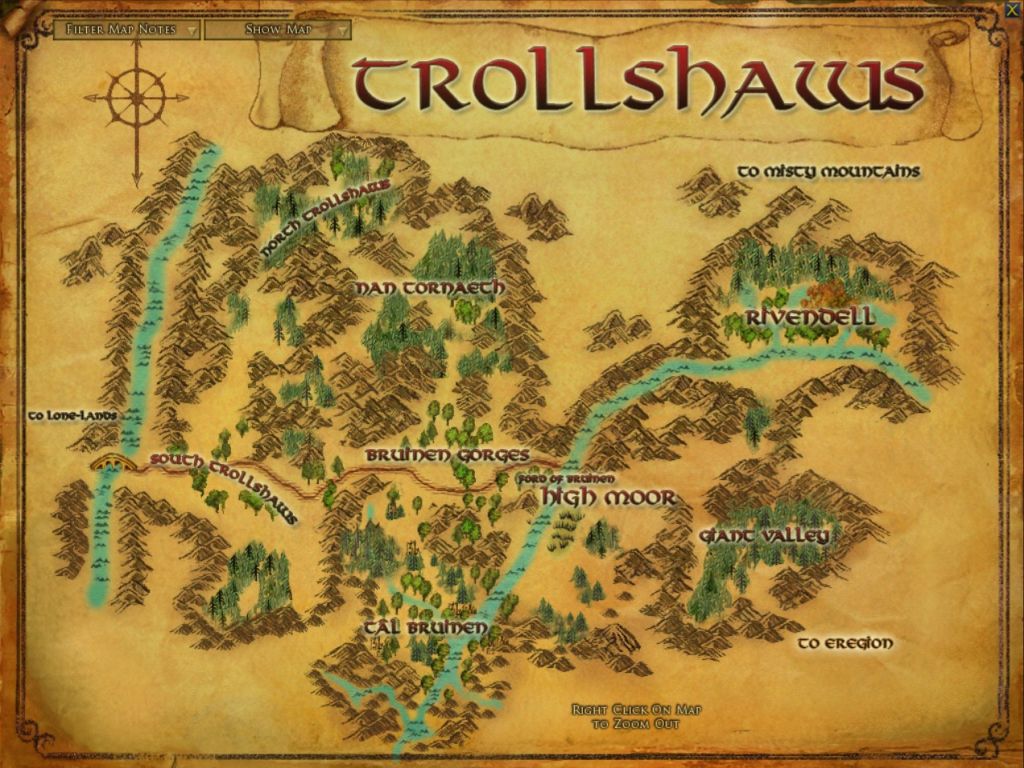 Bestowal
'While I am glad that Arifael is well, there is more that concerns me. Long ago, we made treaty with the giants of the Misty Mountains. They agreed not to come down into the hills and vales of the Trollshaws without our leave.

'Yet the hostile giants who threatened Arifael have clearly thrown aside this ancient restriction. What else will they dare to do, if they are not rebuked for this transgression?

'The giants in the Stonemere near Arifael must be dealt with. Their strength must be broken, and their leader defeated. Do not attempt to face these foes alone, for they are as dangerous as they are foolhardy, and fools they be if they risk the anger of the Elves.'
Background
Hostile giants in the Stonemere south of Rivendell have violated an ancient treaty by coming down from the mountains and into the Trollshaws.
Objectives
Objective 1

Defeat Giant stone-breakers (0/6)

Objective 2

Defeat Giant rock-throwers (0/6)

Objective 3

Defeat Giant head-smasher (0/1)