Database
Chapter 7: Emissaries of Evil
Chapter 7: Emissaries of Evil
Prerequisite:
Chapter 6: The Secret of the Order
Series Name:
Vol. I, Book 10: The City of the Kings
Leads To:
Chapter 8: The Prisoner's Messge
Start Zone:
Evendim
Start Area:
Tinnudir Keep
Start Mob:
Mordrambor
Flags:
Small Fellowship, Epic
Items Rewarded:
Always Receive:
Select One of:
Cash Granted:
24

85

Exp Granted:
4042
Quest Level:
50
Min Level:
45
Send a correction
Locations with maps:
Evendim
|
Evendim
Click here for more and bigger maps with filtering options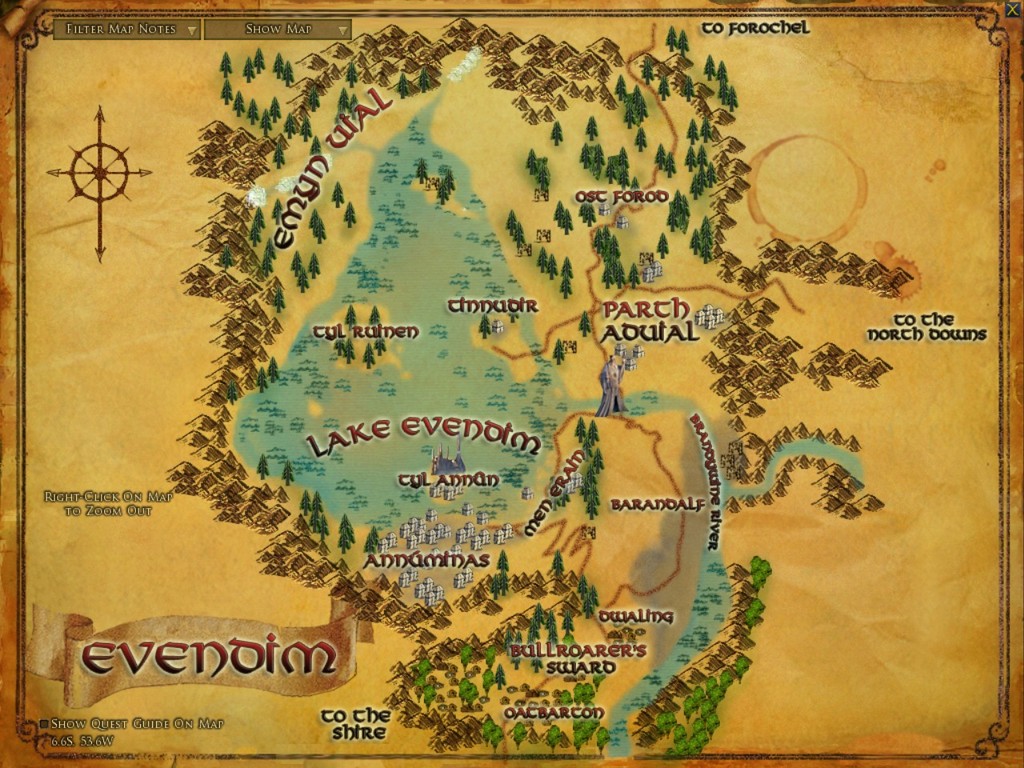 | | |
| --- | --- |
| | Cailin |
| | Mol Choluim |
| | Mordrambor |
| | Roibard |
| | Summoned Spinner |
| | Men Erain |
| | Tinnudir Keep |
| | Tyrn Fornech |
Background
Mordrambor has translated the orders you recovered from ngmarim in Annuminas and revealed a deadly plan to gain more allies in the fight for the city.
Objectives
Objective 1
Find Amarthiel's emissary to the Gauredain
Find Amarthiel's emissary to the Kergrim
Find Amarthiel's emissary to the Men of Rantost

Mordrambor told you of the three Angmarim emissaries sent to buy the loyalties of new alies for Amarthiel's armies in Annuminas: the tomb-robbers on the island of Rantost, in the north-east corner of the lake, the Gauredain near the north-west corner of the lake, and the Kergrim among the tombs of Men Erain, along the south-east corner of the lake.

Mordrambor has told you of three emisaries sent by boat across Lake Nenuial to buy the loyalties of some of the evils that plague Evendim.

Defeat Cailin
Defeat Mol Choluim
Defeat Roibard

Objective 2
Talk to Tadan

Ranger Tadan is in the prison atop the flight of stairs as you enter the keep on the island of Tinnudir, in Evendim.

You defeated the three emissaries sent by Amarthiel to recruit new allies for the battle of Annuminas and should now report of your stores to Tadan.